Application
For decades, Phoenix has been the industry leader for commercial and industrial environments seeking durable solutions and the latest lighting technologies. We offer a wide range of solutions for outdoor applications through our flood, large area, wet and hazardous location rated lights. For certain projects, our intelligent controls system can be added to your design, allowing you to schedule lights, automate on and off capabilities and receive constant monitoring of connected fixtures. Our solutions for various indoor industrial applications enhance a facility's safety and security through improved illumination while keeping operational and maintenance costs low. Phoenix has the capabilities to deliver customized solutions for optimal visibility in each outdoor and indoor industrial space.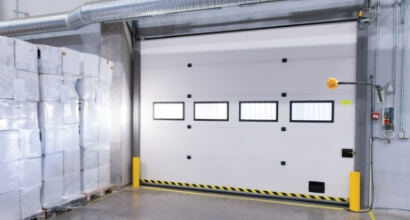 Loading Docks
Loading docks are bustling hubs of activity. Maintaining the flow of traffic is important for smooth and efficient operations. Since Phoenix developed the first dock light in 1960, our docklite® product line has been a sequence of innovations inspired by evolving material handling needs. Whether you need a flexible arm, dimming ability, wet or hazardous location rating, our loading dock lights provide a new level of safety and efficiency to loading dock operations.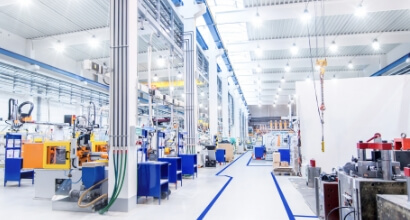 Warehouses & Manufacturing Facilities
Warehouses and manufacturing facilities require light that will aid in safety, quality control and worker productivity. From indoor applications like production areas, storage and conveyors, to the building's outdoor perimeter, Phoenix's warehouse light fixtures illuminate where it is needed the most. With higher quality lighting, workers remain safe, employees work with precision, energy consumptions decrease, and time spent on lighting related maintenance is significantly reduced.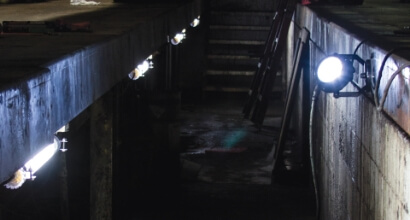 Task & Maintenance Lighting
Leverage Phoenix for task and maintenance areas to provide optimal light that will aid worker productivity and safety in the field. Our durable, impact-resistant lights provide protection in areas where collisions are possible and in challenging environments. Task and maintenance light fixtures are suited for a range of locations or facilities where service, maintenance, repair, inspection and cleaning operations take place and other indoor or outdoor working areas that may be wet or hazardous.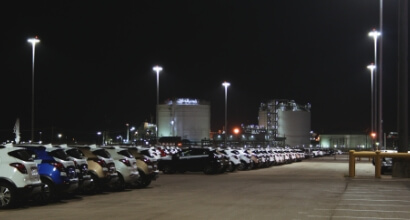 Parking Lots & Garages
Parking lots and garages require reliable, energy efficient light that will enhance the safety and visibility of drivers and pedestrians. Phoenix's high mast LED flood lights for parking lots exceed these requirements by providing glare-free illumination across large areas. By including an intelligent controls system, lights can be scheduled and monitored to achieve additional energy savings. Phoenix's wide range of linear and flood lights for parking garages are easy to install or retrofit existing fixtures – paving the way to maintenance-free and energy efficient illumination.
Walkways, Tunnels & Bridges
Phoenix offers LED high mast, flood and linear fixtures suited for installation in various outdoor applications like walkways, tunnels and bridges. Whether you are looking to retrofit existing lights or need lighting for an expansion, our solutions deliver even illumination that enhances the safety, security and visibility of an area - even in corrosive or extreme environments. Leverage Phoenix's intelligent controls system to maximize fixture lifespan and to achieve greater energy savings.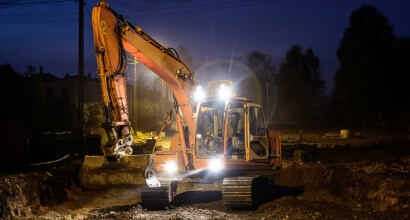 Municipal, Construction & Agricultural Equipment
Phoenix's DC equipment lights provide the most dependable illumination for municipal, construction, agricultural and other industrial mobile equipment. These applications require consistent light and exacting standards of durability to keep productivity and safety high, and maintenance at minimum. With exceptional glare control and a wide variety of beam patterns, Phoenix's DC equipment lights improve illumination for operators so they can do their jobs safely and efficiently.
Industry Associations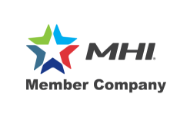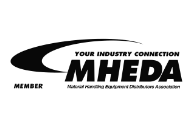 Asset
Are your loading dock lights helping or harming your loading dock? Learn key qualities to look for when loading dock LEDs that improve the safety, efficiency and productivity of your operations.
Learn More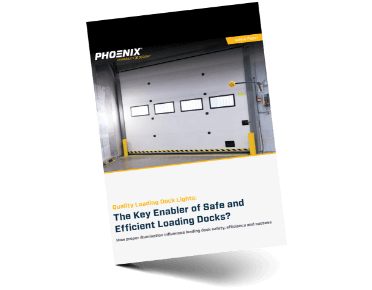 Featured Lighting Projects
Project

Pennsylvania Department of Transportation (PennDOT) oversees programs and policies...

View Project

Project

The Phillip and Patricia Frost Museum of Sciences opened doors to its new complex in Downtown Miami's...

View Project

Project

At HeatTek's state of the art warehouse in Ixonia, WI, employees engineer and manufacture large heat treat...

View Project
You may be interested in
Blog

You are ready to light that warehouse you've moved your business into. It is lit with old florescent lights and now...

Read Post

Blog

Check out the cool project Phoenix lit in our own backyard! Our EcoMod® 2 fixtures now light the focal point of...

Blog

Hartfield-Jackson Atlanta International Airport's newly upgraded lighting was featured in Airport Improvement...

Read Post
Inquiry
Have questions about our products? Looking for lighting consultation, designs or quotations for your lighting project? Share your details here and let's talk.