Application
Port operators around the world choose Phoenix for their container handling equipment and yard lighting because these applications demand the highest level of durability along with uniform, consistent light. Quality fixtures are necessary to withstand corrosion, shock and vibration, and Phoenix's lights are designed to endure these conditions so operations can continue at all hours. Enabling operators to effectively see what is happening under them will optimize productivity and maintain the highest safety standards. Our large area lighting and intelligent wireless controls system maximizes the facility's security and safety. This specialized solution brings a new level of operational efficiency and asset management to ports and terminals.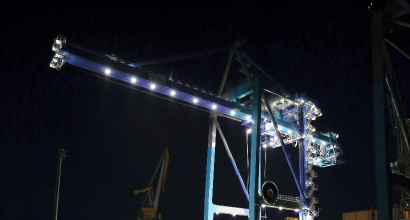 Container Handling Cranes
From retrofit projects to new builds, we provide crane lighting solutions that stand up to the vibration and harsh weather conditions of ports and terminals. Our heavy duty LED floodlights are manufactured specifically for each space of STS Cranes, RTG Cranes and Mobile Harbor Cranes to deliver the highest performance and durability. With superior illumination, crane operators are more productive, and everyone is safer.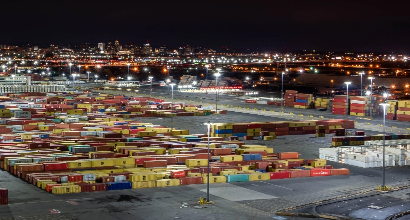 Container Yards
Meet unique port safety requirements and maximize the security of container yards with our superior LED high mast fixtures. Our lighting solutions provide energy efficient and glare-free illumination across container handling and storage areas. By integrating our advanced wireless lighting control systems, ports and terminals can increase energy savings, extend fixture lifetimes and receive real-time performance monitoring.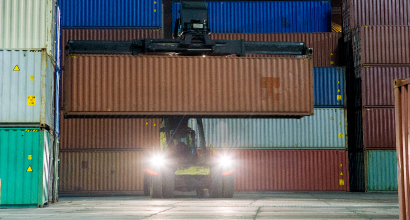 Mobile Equipment
The punishing work of a reach stacker needs lighting that can take a hit. Our LED DC equipment lights for all areas of mobile equipment provide consistent light and exacting standards of durability. Terminals choose Phoenix for their mobile equipment lighting to keep productivity and safety high and maintenance at a minimum.
Industry Associations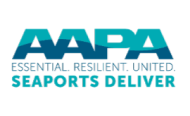 Asset
Large area lighting upgrades can stay on-budget, with minimal hassle - if you choose the right lighting service provider. Read this handy guide to learn what key considerations you must keep in mind when choosing the right provider and solution for your needs.
Learn More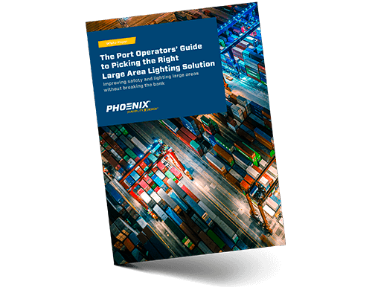 Featured Lighting Projects
Project

The South Carolina State Ports Authority, the "greenest port in the Southeast," receives an average of six vessels a...

View Project

Project

The Georgia Ports Authority is the largest single container terminal in North America and the 4th busiest port in...

View Project

Project

Phoenix Lighting provided RAK Ports with EcoMod 2 LED floodlights to retrofit both Liebherr and Konecranes...

View Project
You may be interested in
Blog

The AAPA's Seaports Magazine published "8 Illuminating LED Lessons" by Ryan Hertel, Phoenix Lighting's...

Read Post

Blog

In North America alone, 70 ship-to-shore (STS) cranes are being raised in the next year to accommodate larger ships...

Blog

Phoenix Lighting is proud to announce the launch of its newest innovation – a fully integrated system for high...

Read Post
Inquiry
Have questions about our products? Looking for lighting consultation, designs or quotations for your lighting project? Share your details here and let's talk.