Application
We work with airports to install our high mast LED floodlights over aircraft aprons to enhance worker performance through advanced glare control and uniform light coverage. Our turnkey large area lighting package is designed to be customizable depending on the requirements of each project. Our solutions include lighting simulations and review of structural design. If needed, we can provide the complete scope of supply – including fixtures, wiring, electrical connection, poles and rings. With optional lighting controls, airports can program light levels around activity and capture additional maintenance and energy savings. Additional services include project management, installation service and extended warranty options.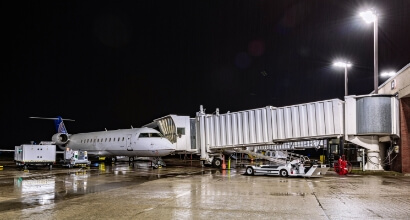 Ramps & Aprons
Ramps, aprons and de-icing pads are some of the busiest parts of the airport, and where auxiliary vehicles and airplanes share the same space. Pilots and ground crews depend on reliable illumination to execute the servicing and parking of airplanes. We've designed an LED lighting solution for airport aprons that offers durability, reliability and optimal light quality, while minimizing glare discomfort for pilots and ground personnel. By installing energy efficient floodlighting and integrated lighting controls, airports can reduce energy consumption and achieve significant annual savings.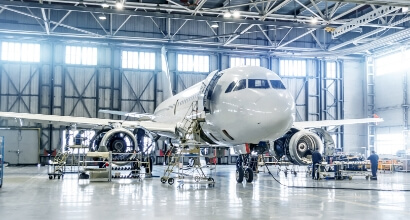 Hangars
The regular storage, maintenance and flight preparations that happen under hangars require superior lighting to enable greater levels of precision and efficiency. Whether you need to upgrade an airport's hangar lighting, or are designing the lighting for a new build, Phoenix provides the most advanced solutions that guarantee proper illumination for operations. LED lighting with specialized optics ensure illumination levels reach under the aircraft, where most work is conducted, eliminating dependency on auxiliary lighting such as flashlights and carts.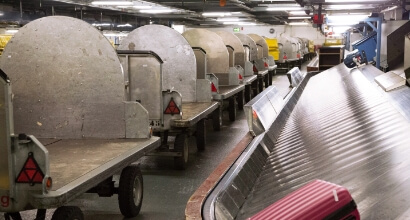 Baggage & Service Areas
Phoenix's solutions for baggage and service areas provide optimal light that will aid in worker safety and productivity by illuminating where it is needed the most. With higher quality lighting, workers remain safe and work with precision, energy consumption decreases, and time spent on lighting-related maintenance is significantly reduced.
Large Area Lighting
Airports are complex and often cover hundreds of acres of land. No matter the scale of an airport's operations, Phoenix can provide superior high mast lighting and controls for various large areas like cargo areas, landsides, facilities, parking lots, access roads and more. Our lighting designs deliver advanced LED lighting solutions that can be simply retrofitted into existing infrastructure or integrated into the design of facility upgrades.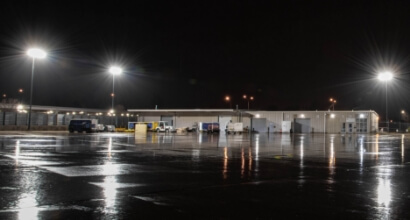 Perimeter Lighting
Phoenix offers airports energy-efficient lighting designed to improve illumination, while minimizing maintenance and operational costs. Our durable high mast floodlights are engineered to provide crisp, clear light and uniformity that enhances the safety and security of the airport's perimeters, both internally and externally. Our fixtures comply with the technical standards and certifications required by the Federal Aviation Administration and are designed to be maintenance-free for the best cost and time-saving strategy.
Asset
Large airport areas like aprons, ramps and de-icing pads are still using inefficient and costly HPS or HID bulbs. Learn how the simple switch to LED lighting lowers energy and maintenance costs.
Learn More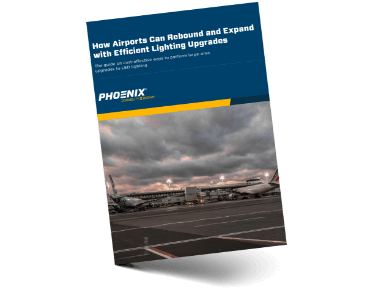 Featured Lighting Projects
Project

Lexington Blue Grass Airport (LEX), nestled in the heart of Kentucky, is growing at a record pace. The annual...

View Project

Project

John F. Kennedy International Airport (JFK) is the primary international airport serving New York City. It is the busiest...

View Project

Project

Hartsfield-Jackson Atlanta International Airport (ATL) is the busiest airport in the world by passenger volume...

View Project
You may be interested in
Blog

Hartfield-Jackson Atlanta International Airport's newly upgraded lighting was featured in Airport Improvement...

Read Post

Blog

Terminal yards are active, ever-changing environments. Incoming and outgoing trucks, containers, ships, and people...

Blog

Phoenix Lighting is proud to announce the launch of its newest innovation – a fully integrated system for high mast...

Read Post
Inquiry
Have questions about our products? Looking for lighting consultation, designs or quotations for your lighting project? Share your details here and let's talk.